Religious Education
Intent
At Skelmanthorpe Academy, we follow the Kirklees Agreed Syllabus 'Believing and Belonging' to develop
children's knowledge and understanding of the world around them. With links to British values, RE at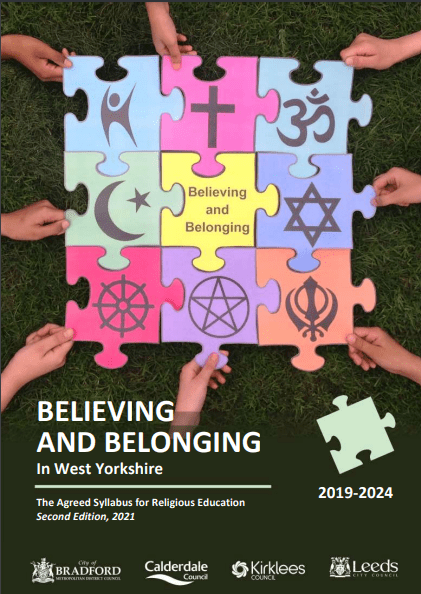 Skelmanthorpe Academy develops children's tolerance for other cultures and religions. As part of a broad and balanced curriculum, children gain increasing understanding and empathy to support their success in our diverse communities. Through questioning, our children investigate meaning, purpose and value and
investigate how religions and other world views influence morality, identity and diversity.
Implementation
Throughout our school community the teaching and learning of RE is focused around rigorous investigation and enquiry of key questions. Our RE curriculum encourages both the development of knowledge and the ability to reflect. The enquiry model adopted by this syllabus builds in both study of beliefs and personal reflection with cross-curricular links, developing religious literacy, thinking skills and ethical judgments. To enable effective progression throughout a pupil's career, RE develops an evolving understanding of world faiths.
Our curriculum is a systematic teaching approach of Christianity, Islam and a non-religious approach
throughout all key stages, extending to Judaism and Sikhism in KS2. RE has depth and substance when it offers
the opportunity to engage with people and places of faith within or outside school. Our RE's most important contributions to education is enabling all learners to explore questions of meaning, purpose and value. This is important from a perspective of faith or non-religious understanding and recognises that most people do not adhere to formal religious structures. 'Other world views' is taken to mean beliefs, arguments or philosophies that approach questions of meaning and purpose without reference to belief. As RE subject lead my short term goal is to ensure both staff and children feel confident in the purpose of RE,
have a clear view of the subject and how it is implemented in each year group. My long term goal is to ensure
Skelmanthorpe Academy supports British values and allows children to have a wide range of RE first hand
experiences.
Impact
RE is measured at the end of every unit. Class teachers record pupils who have not reached the end of year
expectations and skills and those that have exceeded. This is then collated at the end of every term and used
to inform gaps in coverage, areas of strength and weakness in the curriculum and next steps in learning. We
are working towards embedding a diverse and inclusive environment within Skelmanthorpe Academy, with a
wide knowledge and understanding of religions, beliefs and views.